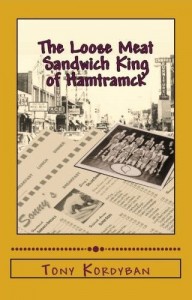 The Loose Meat Sandwich King of Hamtramck
Terry Starko is hoping to change his luck by heading to, of all places, Detroit. In the hometown he'd escaped years ago is a promising job interview. Until nine months ago, Terry had the American Dream in his back pocket: the picket-fenced house, wife, kids and career, mostly due to a series of fortunate misunderstandings. Then an outsourced job and an unpaid mortgage threaten to snatch all that away. This new job just might banish the bill collectors and put the brakes on a looming divorce.
Plans to nail the interview get shoved to the back burner as soon as Terry hits Detroit. Everybody is looking for him as if he'd never left town, from his hot new step-mother to some shady characters from the Greek Restaurant Owners Association. It's all connected to the best friend Terry didn't know he had, a guy who sells Chernobyl Tonic Water to old babushka ladies, and who had once started a street gang war over bootleg Colorado beer. Oh, and that best friend was just found dead under suspicious circumstances. It looks like Terry might end up either in a coffin next to his best friend, or as the new Loose Meat Sandwich King of Hamtramck. Which way it goes depends on the confluence of high school basketball, a stripper running for election to the city council, and a crook who's working to fix Detroit, one coffee shop at a time. It's a fun, nostalgic adventure in a town where garage bands compose songs about Richard Nixon based on the Ukrainian national anthem. And finally, it answers the long-pondered question, "What is a loose meat sandwich, anyway?"
Sure, Batman and Ellery Queen can solve crimes. They're filthy rich, with more resources than a big city. What if you're the main suspect in your friend's murder, and you live on the streets? No job, no home, no good name to clear even if you find the real killer. The only thing Wayne hasn't lost is his sense of justice.
Wayne is invisible. At least that's how the regular citizens of Babcock Grove act when they pass him on the street. He isn't unemployed. He has a job for every day of the month. They just don't add up to one real paycheck. He isn't homeless; there are seven different places he can bed down for the night. Just none he can call his own. Wayne is always making plans that come up just short. Maybe it's his criminal record, maybe it's the result of ancient geological forces, but he can't catch a break. But Wayne has a New Plan to end his years on the streets. He's found the perfect house to move into. Except for one thing: the owner's corpse inside. Now he's become all too visible. The cops need a convenient suspect, and the killer is coming back to tie up loose ends. Wayne has to use all his street smarts to solve the mystery, and to finally find a place he can call home.
Now available on amazon.com and at your favorite source of fun reading. Paperback and e-book.
This popular book is a collection of myths, mistakes, and lessons learned from practicing engineers involved in the field of electronic equipment cooling. Through entertaining anecdotes and stories based on his experience at Tellabs Operations, Inc. Tony Kordyban covers basic dimensions of heat transfer concepts–mostly from real problems which were incorrectly solved at least once before a correct technique was applied. The book's 31 chapters, each on an important and relevant topic, contain simple line drawings to help illustrate the basic concepts, while the text provides accurate and complete technical explanations. The book's case study approach makes it an extremely useful and handy reference–and Kordyban's clear and entertaining writing style mixes technical subject matter with humor and is both interesting and instructive.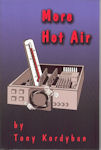 More Hot Air More Hot Air is the long-awaited sequel to the author's popular ASME Press book, Hot Air Rises and Heat Sinks: Everything You Know About Cooling Electronics Is Wrong. This new book continues in the same humorous and easy-to-read style of the earlier book, with all-new, original case studies in the field of electronics cooling. Each case study, told as an anecdote, is designed to teach a basic concept of heat transfer, as applied to keeping electronics from overheating. Because of the constantly shrinking size of electronics, the job of cooling electronics continues to get tougher. Many people not trained in the basics of heat transfer have been roped into doing this job out of necessity. For those who lack any formal training in heat transfer, the case studies explode many of the myths about cooling electronics and replace these flawed practices with sound engineering, based on actual heat transfer theory. The case studies and humor in this book are also entertaining to those well versed in electronics cooling. A must-read book for all engineers and their managers concerned with electronics packaging.
Day and Night, Why? Why? Why?
A mother pteranodon explains to her children that the rotation of the earth is the reason for day and night, and why they have to stop playing and go to sleep every so often.  This is a picture book for ages 2 to 7.  It was developed as teaching material for basic astronomy concepts for kids in pre-school, and because pteranodons are just so darn cute.