Large Print edition released!
It was supposed to take three weeks, but the publishing process went along without a hitch this time. The Large Print Edition of "The Shepherds' War" is now available on amazon. Be careful when you click — it has the same title and cover art so you might order the standard one. Make sure it says
A fan asked if there was a Large Print edition so her father, whose eyesight has faded with the years, could enjoy it himself. That got me thinking, and it turns out CreateSpace can print a Large Print edition for the same low, low price! ($14.99)
It was formatted to the standard of NAVH (National Association for the Visually Handicapped), the same one used for Large Print editions of Stephen King's books. Look for it after the release date of June 28, 2016. If it comes out sooner, you'll hear about it right here.
The Shepherds' War is here
Tony Kordyban's latest novel was released on Amazon.com on May 5, 2016. Just like all his books, it is available in high-quality softcover and as a Kindle e-book. (Remember, Kindle books can be read on almost an platform with apps available for free from Amazon, so don't let that slow down your reading fun! Read it on your laptop or iPhone of probably even your Xbox.)
Judge it by its cover
The Shepherds' War is worth the price for the cover alone — a masterpiece of clean, intriguing design by Zenon Tomyn. Wait until you see those eyes full size the first time you open that Amazon box.
Then jump inside
Tony has given you the story of a man whose life improved after having his identity stolen in The Loose Meat Sandwich King of Hamtramck, then the saga of Wayne Parsons, the Homeless Detective, in Those Who Trespass. Now he presents The Shepherds' War.
Noah can't read. He doesn't speak and can barely tie his own shoes. But he is descended from a clan with an unusually powerful talent for herding animals – flocks of sheep, packs of dogs, swarms of starlings. Some think it to be more than talent. They suspect an unnatural power over the collective mind of the herd. In 1968, 12-year-old Noah has fallen under the control of Victor Kazlov, a Soviet agent whose goal is nothing less than the collapse of the US government. Protests over civil rights and the Vietnam War are already mushrooming in every major city. What will happen if Kazlov can use Noah's talent to steer the protesters toward increasing violence?
The Shepherds' War in softcover
_____________________________________________________
Detroit: Ruin and Rebirth
They say the seeds of the architectural revolution of Chicago were planted in the Great Chicago Fire. That disaster wiped the city slate clean, giving the opportunity for something amazing to take its place.
Detroit wasn't destroyed in one night. It is disappearing bit by bit, house by house, building by building, in what could be called the Great Detroit Abandonment. As the slate is slowly erasing, like some forgotten Etch-a-Sketch left on its face in the attic, will something amazing take its place?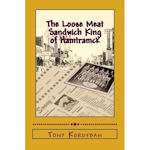 The Loose Meat Sandwich King of Hamtramck is a novel of Detroit's ruin and rebirth. When buildings and rules collapse, an unexpected sense of freedom is created, the freedom to re-invent a city, the freedom to re-invent oneself. It is a story told with gentle humor, and with hope.
For more haunting photos of abandoned Detroit, check out the photography blog at http://timsolomoncontexts2.blogspot.com/2011/03/abandoned-buildings-detroit.html
_____________________________________________________


The Homeless Detective and his Homeless Dog
a mystery story told with Kordyban's twisted style
Sure, Batman and Ellery Queen can solve crimes. They're filthy rich, with more resources than a big city. What if you're the main suspect in your friend's murder, and you live on the streets? No job, no home, no good name to clear even if you find the real killer. The only thing Wayne hasn't lost is his sense of justice.
Wayne is invisible. At least that's how the regular citizens of Babcock Grove act when they pass him on the street. He isn't unemployed. He has a job for every day of the month. They just don't add up to one real paycheck. He isn't homeless; there are seven different places he can bed down for the night. Just none he can call his own. Wayne is always making plans that come up just short. Maybe it's his criminal record, maybe it's the result of ancient geological forces, but he can't catch a break. But Wayne has a New Plan to end his years on the streets. He's found the perfect house to move into. Except for one thing: the owner's corpse inside. Now he's become all too visible. The cops need a convenient suspect, and the killer is coming back to tie up loose ends. Wayne has to use all his street smarts to solve the mystery, and to finally find a place he can call home.
Now available on amazon.com and at your favorite source of fun reading. Paperback and e-book.
—————————————————————————————-
The Loose Meat Sandwich King of Hamtramck
Synopsis
Terry Starko is hoping to change his luck by heading to, of all places, Detroit.  In the hometown he'd escaped years ago is a promising job interview.  Until nine months ago, Terry had the American Dream in his back pocket: the picket-fenced house, wife, kids and career, mostly due to a series of fortunate misunderstandings.  Then an outsourced job and an unpaid mortgage threaten to snatch all that away.  This new job just might banish the bill collectors and put the brakes on a looming divorce.
Plans to nail the interview get shoved to the back burner as soon as Terry hits Detroit.  Everybody is looking for him as if he'd never left town, from his hot new step-mother to some shady characters from the Greek Restaurant Owners Association.  It's all connected to the best friend Terry didn't know he had, a guy who sells Chernobyl Tonic Water to old babushka ladies, and who had once started a street gang war over bootleg Colorado beer.  Oh, and that best friend was just found dead under suspicious circumstances.  It looks like Terry might end up either in a coffin next to his best friend, or as the new Loose Meat Sandwich King of Hamtramck.  Which way it goes depends on the confluence of high school basketball, a stripper running for election to the city council, and a crook who's working to fix Detroit, one coffee shop at a time.  It's a fun, nostalgic adventure in a town where garage bands compose songs about Richard Nixon based on the Ukrainian national anthem.  And finally, it answers the long-pondered question, "What is a loose meat sandwich, anyway?"